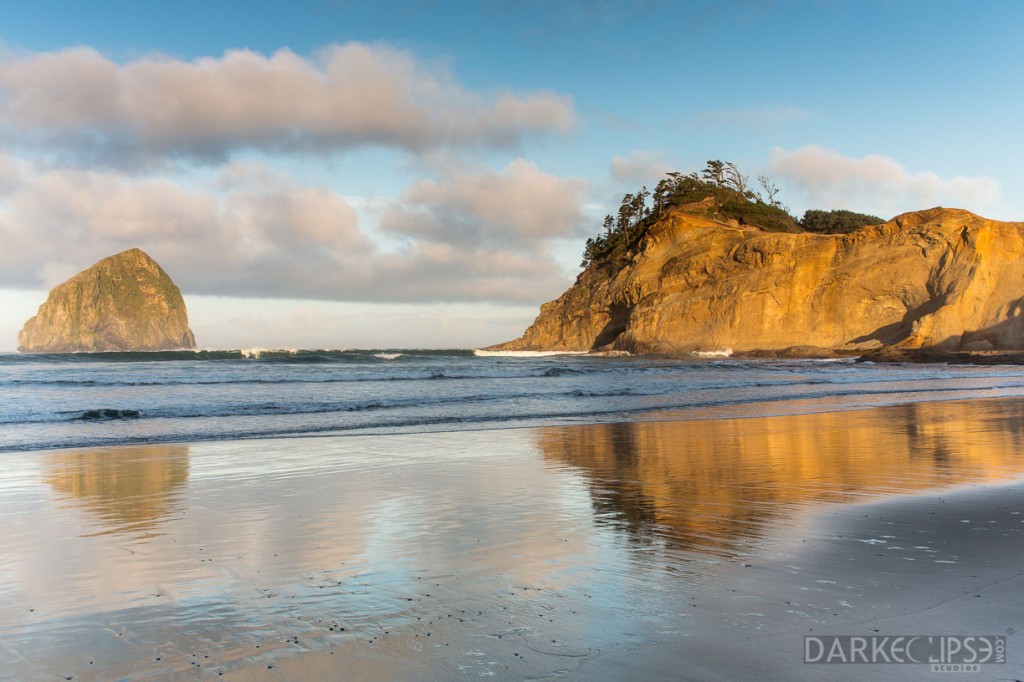 Date: 05/31/2013
Location: Cape Kiwanda Beach, Pacific City, Oregon
Upon seeing this photo of Cape Kiwanda Beach, you will surely utter the words like amazing, surreal and picture perfect! The serene and calm waters sets a positive mood for the day. The clouds adds a soft contrast to the rock formations. The stillness of the waters is remarkable as it reflects the beautiful scenery down to its littlest detail. The azure horizon is refreshing and conveys a hopeful day ahead as the sun rises.
Outdoor photography is at its best when you are at Oregon. One of the most fascinating places in Oregon is Cape Kiwanda (right at the heart of Pacific City) which boasts astounding ocean views. Cape Kiwanda is a component of the Three Capes Scenic Route alongside Cape Lookout nd Cape Meares. Cape Kiwanda is considered to be the smallest among the three. However, it is one of the best places to witness the dyamic movements of the waves.
Photography is just one of the best outdoor activities to do while in this beautiful place in Oregon. In addition to that, there are a lot of activities to do while you are visiting Cape Kiwanda. If you go north of Cape Kiwanda, you will find Tierra Del Mar which is a long stretch of beach where people come to habe picnic, kite flying and hang gliding.