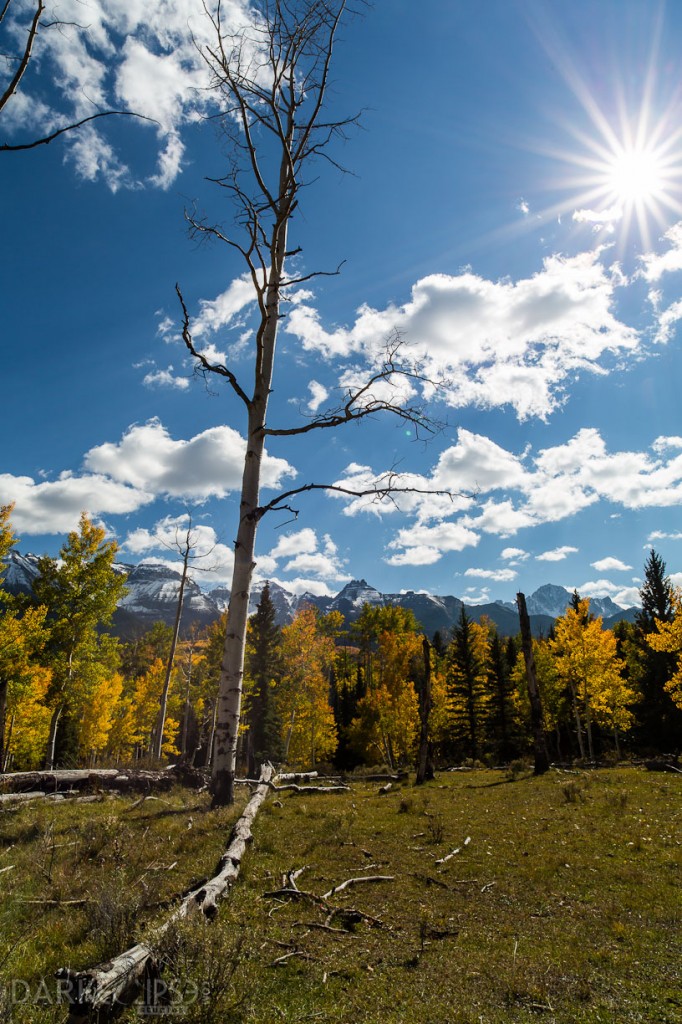 Date: 09/30/2012
Location: County Road 5, Colorado
Title: Follow the star
Pictures of breathtaking landscapes are priceless pieces of art. The unique and appealing beauty of autumn foliage brings back a lot of fond memories. This gorgeous image of the falls colors in Colorado depicts the photographer's passion in capturing snapshots that is crisp, detailed and bursting with interesting hues.
This photo of autumn in Colorado is a festive visual treat. The flicker of the sun in its background creates a homey and calming mood. The billowy clouds in the azure sky makes this image a very relaxing image perfect to set the ambiance of serenity and placidness.  This image was taken from the beautiful autumn colors right of Colorado. Through the years, Colorado has been a popular place to visit for those photographers and nature lovers around the United States and even from various parts of the world.  Colorado colors are so popular because of the colors of the Aspen trees which look so beautiful In photographs. The fall season gives photographers the opportunity to relish the splendor of Mother Nature. The hues of autumn foliage bring into play a sense of wistfulness and relaxation. With the shifting seasons, the verdant greens begin to shed off and the warm tones of autumn appear. For those who adore the homey feel of autumn, this fine art photo is an explicit must-have.
This is a nice design piece for a home or office space. Create an ambience of warmth and relaxation by hanging this photo on a wall into a specific room in the house. Put this photo in an office lobby and you will surely have a relaxed mood around.